Programming for student success
University of Northern Colorado College of Osteopathic Medicine Program Plan
A different approach to design is needed for a new College of Osteopathic Medicine (COM). Programming and planning for these programs is a unique process. Ensuring their highly specific specifications are met requires in-depth planning and expertise. To support interprofessional team learning, problem solving, and integration of holistic care, osteopathic principals should be prioritized at every step of the way.
As a national leader in the design of COMs, we teamed with SmithGroup. Together, we provided programming and conceptual design for the new University of Northern Colorado College of Osteopathic Medicine. The program plan includes facility programming, planning, and design to establish a projected total project cost. The plan is completed for capitol funding, required by the State of Colorado.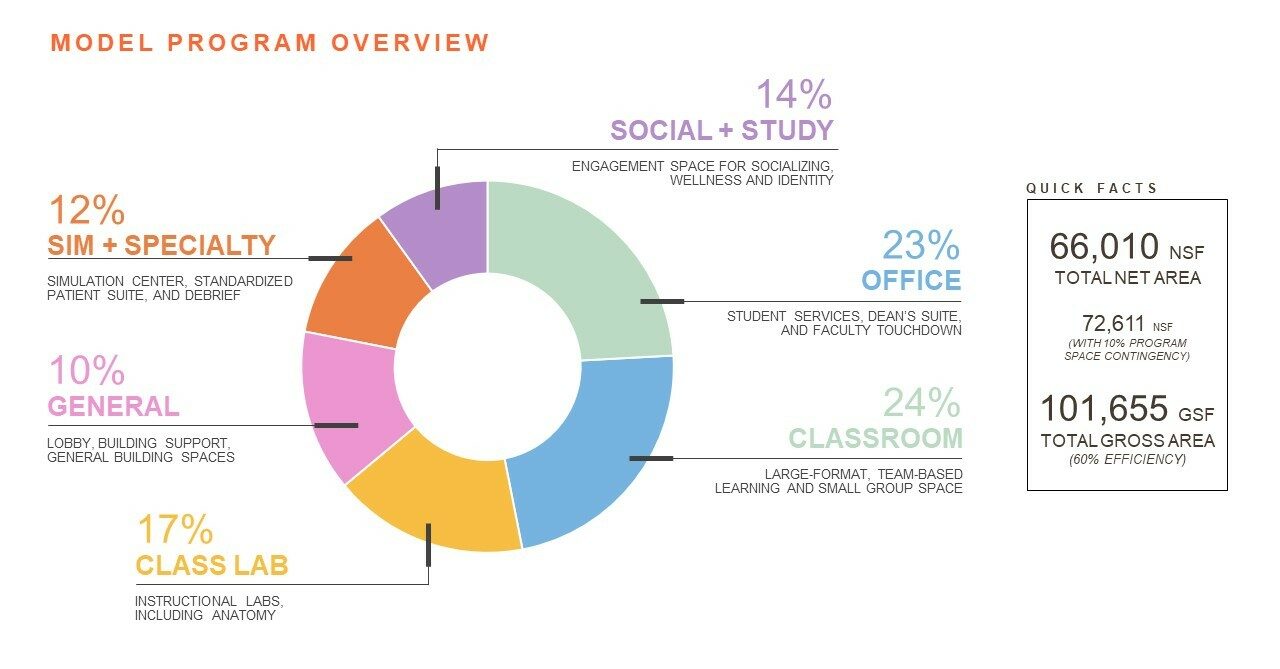 The new COM at the University of Northern Colorado (UNC) brings students a state-of-the-art facility for medical education. The project was an opportunity to offer robust services and amenities to learners. Student support is a critical element of challenging COM programs, often entered by first-generation college students. The plan includes dedicated spaces for physical and virtual anatomy, Osteopathic Manual Manipulation (OMM), Objective Structured Clinical Examination (OSCE), and simulation. Large team-based learning and collaboration is reinforced with classrooms and shared study spaces.
Getting in on the ground floor
As a start-from-scratch project, the UNC COM had minimal faculty on board at conception. To set the initial vision and goals, we relied on input from the Founding Dean and administrators. After exploring planning approaches via a series of tours of other institutions, we led the Dean and her team through a discovery process to find the right programmatic fit for UNC and balance of space.
We interviewed the Founding Dean for input on required learning and key administrative spaces. Specific input, benchmarking, and approved student capacity helped us develop a Target Model Program for the COM. This high-level program was used to establish the overall building size and create blocking and stacking diagrams. Next, we developed the blocking and stacking diagrams into 3D conceptual massing schemes. This facilitated the building's place on the site. It also indicated broad brush size, form, and materiality for the building.
Creating a rich and meaningful dialogue during the program plan process was key. Our in-house experts and partners at SmithGroup worked closely with the Founding Dean and UNC. The result? A program well-positioned for the COMs progress to completion. The plan meets UNC's accreditation requirements, and addresses the unique challenges of their student population. The new College of Osteopathic Medicine will help students, primarily focused on rural healthcare after graduation, to success in school and beyond.
Client
University of Northern Colorado

Location
Greeley, CO

Disciplines
Beyond the Building
Community Benefit
Creating Partnerships
Experience Redefined
Mission Support
Modern Learning Environments
Positive Outcomes
Student Success
Technology Modernization