Rethinking the Workplace for a Reluctant Return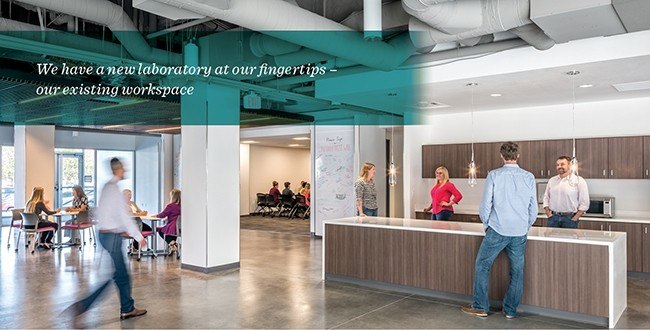 As COVID-19 has moved the majority of the world's workforce to working from home we are wondering how the workplace will change upon our return. According to a New York Times article, "Kate Lister, president of Global Workplace Analytics, expects more than 25 percent of employees to continue working from home multiple days a week, up from fewer than 4 percent who did so before the pandemic."[i] Whether we continue to work remotely, return to the office part or full time, there will be apprehension about how our workplace will either help or harm.
WELL, Fitwell, LEED, SITES, and The Living Building Challenge are all resources for designers to develop environments to support human health and wellbeing. As the basis for our practice of human centered design, the WELL Building Standard has provided a framework that can make the places we used to spend the majority of our lives more safe and secure. How can we make the workplace an inviting and desirable place to spend the day without the application of tape on the floor to ensure that we are physically distancing from our co- workers and clients?
We have a new laboratory at our fingertips – our existing workspace. Several forecasts have surmised that the office footprints will reduce significantly. Other influences may well determine that space needs will change, but not necessarily decrease. Increased personal space allocation, the addition of more enclosed workspaces, larger or added meeting space may repurpose the space vacated by the migration to employees to remote work.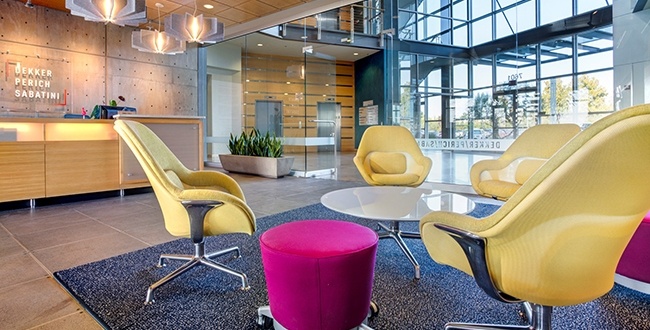 Initial Engagement with Separation
Lobbies are the first point of engagement in any work environment and the space should remain inviting while promoting appropriate separation. "Research indicates that the experience of nature or nature-derived patterns can improve experience, mood and happiness,"[ii]

 so consider strategically placing plants into the space to separate visitors and staff from front line employees. This creates a safe distance while reaping the benefits of biophilic design.

Provide a diversity of seating opportunities and densities in common areas to facilitate physical distancing.

Reduce opportunities for touching surfaces by eliminating transaction tops or use them for display or additional planters.

Develop alternative locations for deliveries and pick-ups by placing lockers in multi-tenant building lobbies or receiving areas.
Personal Space – a Shift in Use
Maintain remote work schedules for a percentage of staff to reduce the number of people in a building or space at one time. 

Reconfigure open workspace to distance employees, if possible, or schedule the days of occupancy to create open workstations between staff.

Generous circulation routes will become the norm.  If not possible, encourage all travel occur in the same direction to avoid crossing paths.

Continue to use sit-stand desks to "mitigate prolonged sitting, while sustaining work productivity… during the workday."[iii]

 Add screens to provide an added level of privacy, security, and separation from coworkers.
Shared Interaction Space
Remove every other chair in meeting spaces and break areas to provide adequate separation.

Provide all employees with the necessary equipment to conduct video meetings, even with staff in the same office to allow for collaboration while limiting the risk of physical contact.

Mobile lounge furniture provides personal choice for staff to distance themselves.

Increase refrigerator space and provide barriers inside to keep personal items separated.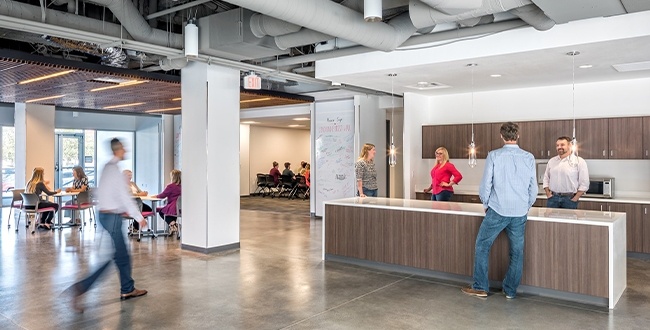 Take Advantage of Outdoor Spaces
Evaluate usable outdoor 

spaces in association with buildings in order to improve physical distancing and connect people to nature

 since "r

esearch demonstrates that the presence of a variety of workspaces that enable individuals to adjust their environments and choose the degrees of engagement is associated with job satisfaction and group cohesiveness."[iv] F

urnish patios and balconies for outdoor meetings

 to facilitate physical distancing, and to be easily sanitized.
Plan walking paths on your property (or throughout the neighborhood). "Pedestrian-friendly environments around the building can help incentivize physical activity."[v]

Now more than ever, people are taking advantage of the outdoors by walking, hiking, and cycling to rejuvenate while practicing physical distancing. Let's encourage and reinforce the behaviors that are now commonplace in our lives – walking is the new standing.

Provide Wi-Fi connectivity, lighting, and power to encourage working outdoors and to support walking meetings.

For re-entering the workplace, locate had sanitizers outside and add operators to doors to avoid contact with high touch surfaces.
The Workplace as the New Laboratory
The return to the workplace will be gradual, with some aspects, such as improved sanitation and physical distancing, becoming baseline. If thoughtfully applied, wellness focused design can refocus and repurpose the workplace to improve quality of life, curb potential transmission, and reduce emotional stress.
---
i The New York Times. What Will Tomorrow's Workplace Bring? More Elbow Room, for Starters, 2020.
ii The WELL Building Standard®, Mind Concept, Feature 100 Biophillia II - Quantitative.
iii The WELL Building Standard®, Fitness Concept, Feature 71 Active Furnishings.
iv The WELL Building Standard®, Mind Concept, Feature 89 Adaptable Spaces.
v The WELL Building Standard®, Fitness Concept, Feature 67 Exterior Active Design.
---
This article is part of a series that addresses the need for new design approaches to support community health resilience. Read more: 
Rethinking Design for a Changed Society
Steps Employers Can Take Today to Prevent a Mental Wellbeing Fallout Tomorrow
Rethinking Multifamily Housing Under Stay-at-Home Orders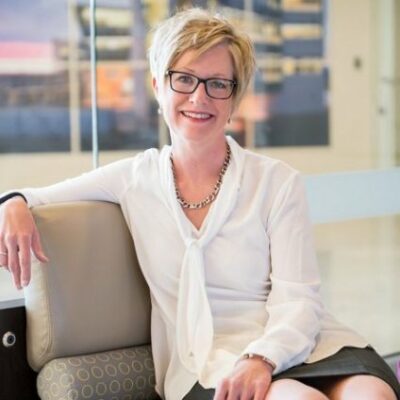 Chief Design Officer / Principal
Andrea Hanson, a WELL Accredited Professional, a licensed architect as well as a licensed interior designer, focuses on workplace performance and design for wellbeing.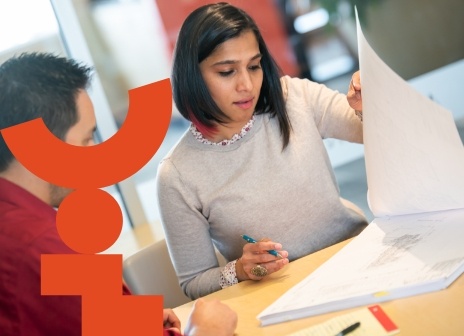 Design a career path with more bridges.
Looking to break down the walls of the status quo?
Our insights in your inbox.