Rethinking Design for a Changed Society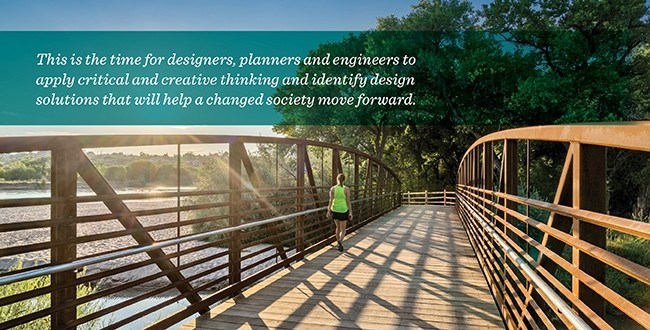 Written by Mimi Burns, ASLA, LEED AP, WELL AP, SITES AP
COVID-19 has upended our world. As the pandemic ebbs and flows in cities, countries, and continents across the globe, most people are focused inward - trying to get through the day in quarantine and figuring out ways for their families, friends, and colleagues to stay healthy, safe, productive, and sane. The design community needs to look outward. This is the time for designers, planners, and engineers to apply critical and creative thinking and identify design solutions that will help a changed society move forward. If not us, who? If not now, when?
We are all in various stages of denial and acceptance. It is hard to think critically about what the future might bring when the present is, well, unprecedented. It's overwhelming. How can we help heal a society that is so anxious, stressed, and traumatized? With better design. As Minnesota Governor Paul Wellstone famously said, "We all do better when we all do better."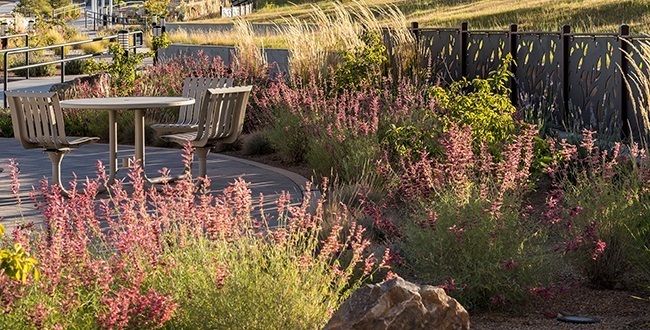 Over the last 25 years, evidence-based design programs such as WELL, LEED, SITES, and The Living Building Challenge, have helped DPS and other design firms create sustainable and resilient buildings that contribute to human health and wellbeing. One of the recurring themes in these programs is the importance and promotion of social engagement and community.
With the advent of the COVID-19 pandemic, however, strategies designed to build community need to be reconsidered in the context of current public health mandates for self-quarantining and social distancing. New design approaches will strike a balance: help reduce community-wide transmission and second waves during epidemics, without eliminating community quality of life and the emotional, spiritual and economic vitality that occurs when people come together.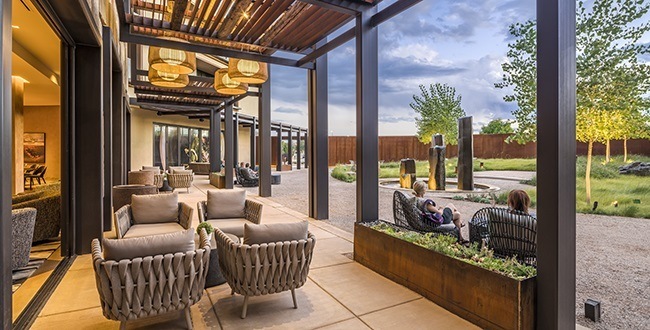 Nature and Recreation - in Big Outdoor Spaces
Plan the distribution, diversity and capacity of outdoor facilities to more equitably serve the population while practicing physical distancing
In large parks, design grounds, equipment, furnishings and support facilities to facilitate physical distancing, and to be easily sanitized so that parks can remain open, operational, inclusive and safe for all citizens
In small parks where demand may be high and capacity low during an epidemic, design the facility so that it can be physically closed to the public
Design parks to include multi-functional spaces that can serve as neighborhood emergency service, testing and distribution areas
Design recreation facilities to include convenient access to handwashing facilities
Social Engagement - with Separation
Provide a diversity of sitting opportunities and densities in common areas to facilitate physical distancing
Provide a generous amount of space within and around queuing areas
Create new usable outdoor spaces in association with buildings in order to improve physical distancing and connect people to nature
Discuss opportunities for expansion of remote work schedules and workday/school day schedule shifts in order to reduce the number of people in a building or space at one time
Connectivity – with Fewer Contacts
Designate and retrofit streets to be closed to vehicular traffic in order to accommodate more pedestrians and promote safer physical distancing
Redesign streets, sidewalks, and building entrances to accommodate more frequent deliveries with physical distancing
Improve public/private multi-modal transportation infrastructure with more automation and sanitization to safely and effectively serve the people going to work during an epidemic
There is light at the end of the tunnel. Let's prepare by developing new evidence-based design solutions for public health that will make our communities more resilient and allow us to thrive in an unpredictable world.
---
Mimi Burns is a WELL, LEED and SITES Accredited Professional and a licensed Landscape Architect who focuses on creating memorable, sustainable and resilient outdoor places that are designed for human health and wellbeing.
This article is part of a series that addresses the need for new design approaches to support community health resilience. Read more:
Rethinking Design for a Changed Society
Rethinking the Workplace for a Reluctant Return
Steps Employers Can Take Today to Prevent a Mental Wellbeing Fallout Tomorrow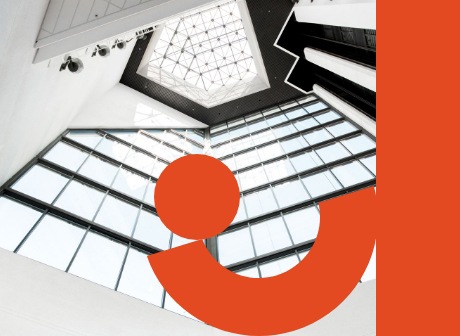 Buildings with more brains require less brawn.
DPS has a different design strategy when it comes to public safety.
Our insights in your inbox.