We learned a lot about trusting our employees through the pandemic. Before COVID-19, very few organizations allowed people to work 100 percent of the time from home. On the rare occasion when employees did work at home, it wasn't trusted that they were actually performing. But, what we've learned throughout the pandemic is that people are more productive working from home than ever.
People love working remotely. Statistics show that up to 25 percent of employees in the workforce will continue working from home two to three days a week. Working from home allows people to do the kind of focused work they were unable to do in the open office. This doesn't mean that the open office will disappear, it just means that our workspace is going to change.
Our future workspaces will be about how the needs of the company link up with the needs of the employees. The post-COVID workplace will need to focus on spaces that encourage experience, engagement, and education.
Experience spaces are the social spaces that allow people to interact casually in the workplace. These spaces need to be warm and inviting, more like a home environment because what we've really been missing is those water-cooler moments.
Engagement spaces will allow people to come together and solve problems rapidly with the full understanding that business success relies on innovation.
Education spaces will range from one-on-one rooms to large spaces for group learning. Both of these kinds of spaces will need to be larger than what we were used to before. We know that we still have to be thinking about social distancing in the future.
Organizations will still need to provide full-time space for people who don't have effective spaces to work at home. However, employees effectively working from home don't necessarily need personal space at the office. This reality may drive the office footprint down allowing for the creation of additional collaboration spaces.
In the workplace of the future, these new collaboration spaces will be specifically curated for teams - deployed rapidly and just as rapidly pulled apart and reconfigured for the next team. And, maybe the office will become so flexible that even teams themselves can reconfigure the space as needed. This is where we will put our focus in the future.
Download a COVID-19 Action Plan Checklist.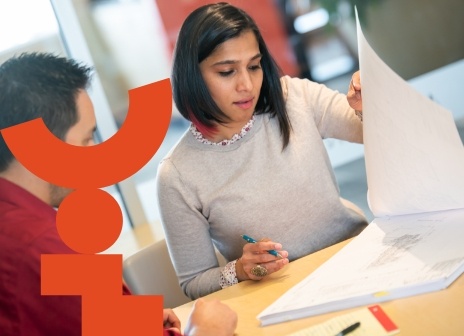 Design a career path with more bridges.
Looking to break down the walls of the status quo?
Our insights in your inbox.