What to Expect When You're Expecting… People to Return to the Office
Employee choice is key to avoiding the aches and pains of labor
By Andrea Hanson and Kate Barone Dimock
After a 26-month gestation period, employees are gathering around the watercooler once again. But more has changed than their webcam backgrounds. The COVID-19 pandemic transformed how we think about work and organizations are struggling to adapt. As a firm, we worked to identify the core challenges and want to offer some solutions to lessen the contractions.
There seem to be two camps: those who want to bring employees back to the office, and those who want to keep them at home. Representing the former is Tesla Motors CEO Elon Musk, who reportedly told his staff, "If you don't show up, we'll assume you've resigned."
His actions highlight a longstanding concern that remote workers are more vulnerable to layoffs, especially in an economic downturn.
Not so fast, warns Kate Lister of Global Workplace Analytics, who suggests that at-home work is the more sustainable path forward. "The bigger environmental win for remote work may lie in the opportunity it offers to reduce real estate usage and better match office energy usage with actual occupancy," Lister wrote.
Her research estimates that 56% of US workers have a job that could be done from home, so the business case to support remote work is strong.
At Dekker Perich Sabatini, we believe in striking a balance between these two views. Our research tells us that teams love the flexibility and control of working from home. But we also face challenges due to a lack of in-person connection and collaboration.
Statistics show 41% of workers are considering leaving their employers. With workers quitting their jobs in droves, organizations are embracing new paradigms to compete for talent. We see four key drivers for companies to successfully navigate this transition.
Space
Employees need a variety of spaces to do their best work. These spaces must be tech-enabled to support collaboration between in-office and at-home workers. Data suggests that people want more private spaces to take calls and maintain the quiet focus they enjoyed at home.
But how much should an organization build? It depends on their unique needs. Ask teams what they need, observe how they work, and strategize from there. We recommend not jumping to a solution too soon. Be open-minded and willing to pivot.
The spaces employees work from remotely matter too. At least four states require businesses to reimburse remote workers for some expenses. To stay ahead of the curve, businesses should help employees maintain a similar set-up regardless of where they are logging in from. DPS gives employees a stipend to put toward the set-up of their choice. Ultimately, the cost of keeping virtual workers well-equipped pales in comparison to the cost of losing them.
Communication
Between Outlook, Zoom, Microsoft Teams, and Google Meet, it is easy for a message to get lost. Organizations must be intentional about maintaining good communication across a variety of platforms. Let the message drive the choice of medium. Send an email if you need to attach documents or convey technical information. On Slack, that information would likely be ignored.
Love them or loathe them, meetings are essential to getting things done. But to maximize their effectiveness, organizations should consider consolidating the kinds of meetings they have and inviting only the necessary people. Dividing meetings into categories – status meetings for sharing updates, planning meetings for determining next steps, etc. – helps define and maintain a sense of purpose.
We may even ask ourselves that taboo question: do we need to meet at all? Staying vigilant about time management can prevent the burnout many are feeling.
Operations
The post-COVID reality demands a different approach to leadership. Organizations know that the quality of their product or service depends on the dissemination of knowledge. While some employees are more productive working from home, there is less free exchange of ideas.
To foster meaningful connections, leaders should plan rich in-person experiences to keep employees engaged. Try to get the entire team together in the office on Tuesdays and Thursdays. Dedicated meeting times give the structure organizations need and the flexibility employees want.
Culture
The 9-to-5 routine is no more. Dolly Parton is no doubt thrilled, but how do organizations establish a new routine? Clinging to old ways will only send talent elsewhere.
Certain tasks are more difficult to achieve asynchronously. First, determine what activities benefit from in-person or remote work. Then schedule accordingly. When in person, make collaboration predictable. When remote, hold people accountable. Suggest a "turn your camera on" approach for virtual meetings to keep the team connected. Make sure employees know what the team and each individual needs to accomplish to produce a successful outcome. Create an environment that allows freedom to stay on track while providing support as needed.
Office buildings can do a lot to enhance the employee experience. Indoor air quality and tunable lighting can improve focus and engagement. Maybe a gym or bike lockers are just what your team needs to integrate exercise into their work schedule.
The common thread uniting all these recommendations is choice. When the due date arrives, a balance of flexibility and structure will ensure a healthy, fruitful return to the office.
Sources:
Bjelland, Tammy. "Async vs Sync: Balancing Remote Team Communication." Workplaceless, April 13, 2021.
Gensler. "U.S. Workplace Survey Winter 2021." Accessed June 14, 2022.
Global Workplace Analytics. "Work-at-Home After Covid-10 – Our Forecast." Accessed June 14, 2022.
Microsoft. "The Next Great Disruption Is Hybrid Work – Are We Ready?" The Work Trend Index. March 22, 2021.
Rowley, Tim. "The Future of Hybrid Work." VentureBeat. March 3, 2022.
Thibodeau, Patrick. "Hybrid work takes bite out of return to office." TechTarget, March 25, 2022.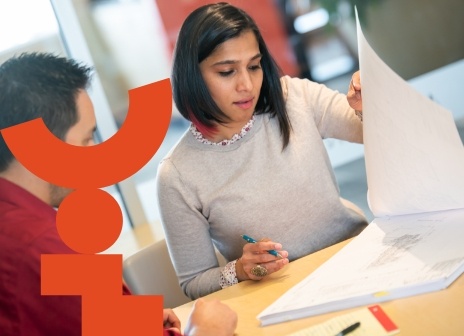 Design a career path with more bridges.
Looking to break down the walls of the status quo?
Our insights in your inbox.