Design Process: The Power of Drawing in Architecture
Summary: In the profession of architecture, drawing is essential to the process of design. From diagrammatical to highly technical, hand drawing brings value to every architectural project by allowing us to quickly explore ideas and convey intent. The development of a parti, the analysis of a site, the organization of spaces, even the exploration of construction details are all efficiently produced in the line work of a sketch.
---
By Wendy Wheeler Martinez, AIA
My personal admiration for hand drawing and sketching is what initially attracted me to architecture. During my formal education, design stole my heart and took center stage. Drawing had become more of a tool to explore my design ideas and express proposed solutions. What I eventually recognized was that the advancement in my drawing technique was being appreciated by those around me. This stirred more incentive to experiment with different styles and different mediums and to learn from others that shared the discipline. When it was time to advance into the architectural professional, the sketches in my portfolio opened the first door.
"Let whoever may have attained to so much as to have the power of drawing know that he holds a great treasure." ~Michelangelo
I imagine that the personal context from which one reads this Michelangelo quote influences their perception of its definition, as it does for me. Drawing is a tool for thought, for creativity, for invention. It is a method for problem solving – exploring and documenting the evolution of an idea. Drawing can capture time and record a memory. It is visual communication: a medium for expression. For those who draw, it teaches us to see, to observe – educating our visual sense through the exploration of form, light, texture, distance and perspective.
In the profession of architecture, drawing is essential to the process which leads the development of a design. Various types of drawings are produced – diagrammatical at the initiation of a project and highly technical in the end. During this process the exploration of design ideas are studied, shared and presented, and varying levels of information must be communicated. Hand drawing, while challenged by the technological ability to produce similar images, brings value to every project. I would argue that the effectiveness of a sketch is incomparable when one considers its efficiency, and perhaps even its beauty.
Used as a method for problem solving, a hand sketch can explore numerous possibilities quickly. The development of a parti, the analysis of a site, the organization of spaces within a building, even the exploration of construction details are all efficiently produced in the line work of a sketch.
Project Parti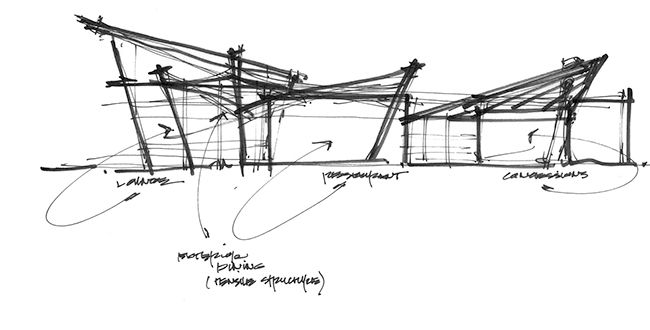 The development of a parti – the concept of an architectural design – is often obtained through numerous diagrams that analyze form, space, orientation, context, and more. Typically loose in style, these drawings initiate an often complex design with an abstract suggestion.
Site Analysis & Planning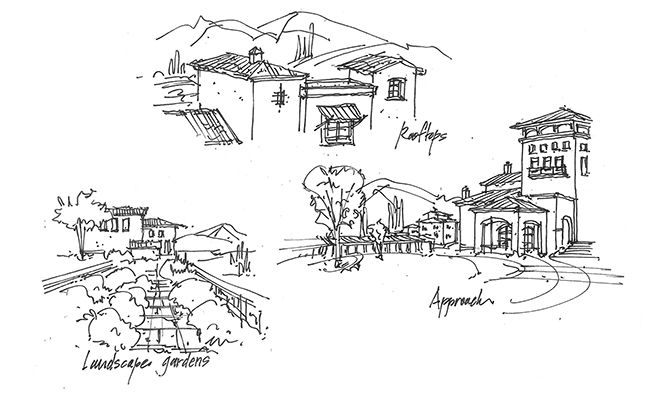 The analysis of a project's site is often documented with overlaid diagram sketches illustrating wind directions, solar paths, topography and terrain, vegetation and landscape, infrastructure, contextual relationships, directional views and more. This visual information begins to define a buildable area and orientation for building placement. Site planning sketches follow this exercise and quickly explore various development concepts within the defined area.
Space Planning
Programmatic diagrams and space planning exercises are studied with loose bubble sketches that represent spacial relationships and hierarchies, exiting and circulation patterns, and vertical stacking. This method allows a designer to illustrate a project's program in 2-dimensional schemes, quickly calling attention to successful solutions. These bubble sketches develop early suggestions of a floor plan.
Building Design

Conceptual building sections are explored with sketches that consider floor-to-floor heights, structural depths, vertical circulation, and potential daylighting strategies. Building elevation sketches record initial ideas of style, proportion, exterior materials, and color. In combination, these illustrations provide useful analysis for consideration in the design of the building's mass, roof design, exterior fenestration and more.
Details
Hand sketches are efficient for problem solving construction details. A number of illustrations can be produced quickly, incorporating varying ideas that reach a single solution.The evolution of the process provides documented analyses which can then be compared to identify the best solution.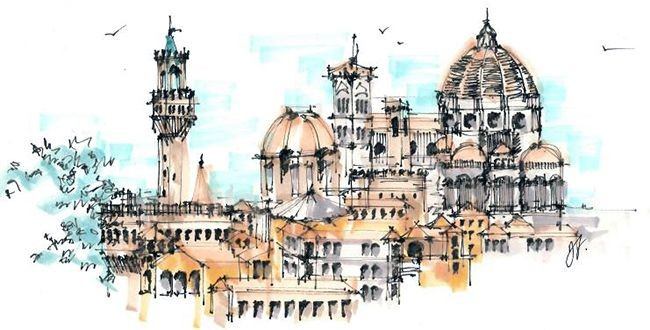 I feel lucky in that I have been encouraged to continue the practice of hand drawing in my role as an architect. It has provided me a consistent balance of the artistic expression that led me to the profession and has presented many opportunities over the years. It has brought smiles to faces and brought joy to my work. Reflecting again on Michelangelo's words above, my "treasure" is the combination of these benefits.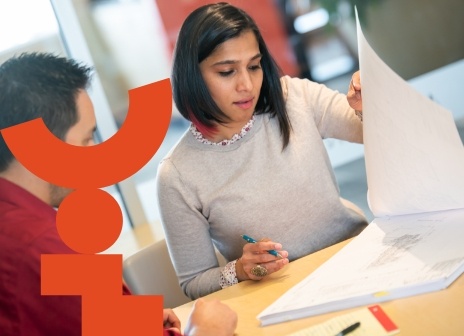 Design a career path with more bridges.
Looking to break down the walls of the status quo?
Our insights in your inbox.