A Healthy Trend: How the WELL Building Standard is Elevating Healthcare Architecture
Much of the WELL Building Standard has to do with what goes on in buildings after we [designers] are gone. How are people living within a building? That's what WELL is concerned with. As designers, we can incorporate specific elements into our designs to make buildings healthier for people.
For example, building a stair that is inviting, daylit, spacious, and feels like a place you want to be in order to encourage people to bypass the elevator and use the stairs.
The WELL Building Standard helps articulate these kinds of concepts, and it illustrates why these features are important design elements. It offers designers and clients another way to think about the project.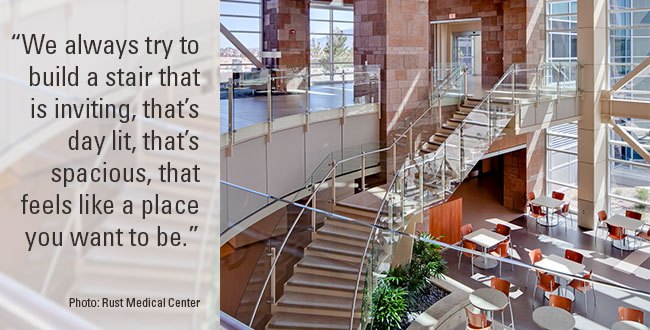 Commitment to Health and Wellbeing
We recently had the pleasure of partnering with DaVita Medical Group to design and build the Sunport Healthcare Center. DaVita has a strong commitment to health and wellbeing as they deliver healthcare in the community. In our work together we intentionally focused on ways to make the new building a positive environment for teammates, patients, and visitors alike.
The elements of the WELL Building Standard support their "Trilogy of Care" ("Caring for Our Patients, Caring for Each Other, and Caring for Our World"). WELL also parallels DaVita's approach of a "Community First and a Company Second", so there is a good deal of concurrence between their corporate culture and WELL.
While not certified under the WELL Building Standard, the project still includes many aspects reflecting the intent. The stair is an easy way to motivate people to be active, so we made sure it was open, provided views to the landscape, and aligned with the feature for Interior Fitness Circulation.
We designed a fitness gym and locker rooms with showers, (Active Transportation Support) and incorporated sit/stand desks, which fit into the criteria for Active Furnishings and Ergonomics. The teammate break rooms are gathering places and reflect healthy eating options (Mindful Eating). Orienting windows in order to maximize daylight and minimize heat and glare works towards Visual Lighting Design, Daylighting Fenestration, and Right to Light. High ceilings, vistas to the mountains and volcanos, intrinsic wayfinding that orients occupants to the exterior, and a landscaped courtyard harmonize with features for Biophilia and Beauty and Design.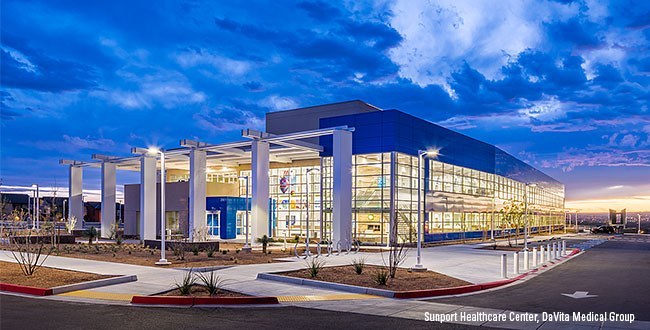 WELL and Healthcare Design
It's about staying healthy in the first place. What you eat, how active you are… some of it is as simple as eating fresh vegetables and reducing consumption of processed foods. Ultimately, that's really the frontline of healthcare in this country – helping people achieve healthy lifestyles.
So much of what we do as healthcare architects is reacting to diseases after they've gotten out of hand, and at the same time, our work is focused on safeguarding people's health. We think about that a lot at DPS, the distinction between sickness and wellness, and how that informs design.
Much of the evolution in healthcare in this country in recent years is an awakening to the need for preventative care, to ensure people stay healthy in the first place, so it's all related.
Health and Sustainability
There's some overlap between WELL and LEED. LEED is a system focused more on sustainability from an energy standpoint and from a standpoint of the building itself. The WELL standard has really more to do with people's lives and what they're doing over the course of the day. But there are obviously things like daylight, or the quality of the air inside of a building, where the standards echo one another.
There's a WELL Building Feature related to site walkability, so both standards consider how a building relates to its context. And actually, some of the WELL features connect to aspects of LEED directly in terms of how criteria are laid out.
There is a LEED system for healthcare, and a future WELL pilot program for healthcare under development now.
WELL for Life
Ultimately, there's something about when we put a name to a thing... like naming a plant; it existed before we named it, but the name changes the way we relate to it. And that's what I see happening here. WELL changes our relationship to this whole set of ideas, bringing them into focus.
The WELL Building Standard encourages design that takes care of people, which embodies our values in a meaningful way, particularly in a healthcare setting.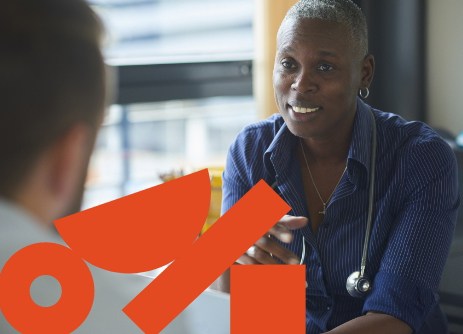 Designing more hospitality in hospital.
Urban design solutions are not a cure-all when it comes to rural healthcare needs.
Our insights in your inbox.