Labs that shift alongside research
UNLV Science and Engineering Building
With a specific goal to spur economic diversification in southern Nevada, UNLV greatly enhanced its science and engineering programs with the development of a new academic research building. The building facilitates increased cross-disciplinary interaction through the flexible and efficient allocation of research space. The facility is comprised of spaces that are versatile and multiple-scope. Wet lab space is economically converted from one use to another so new research can be seamlessly accommodated.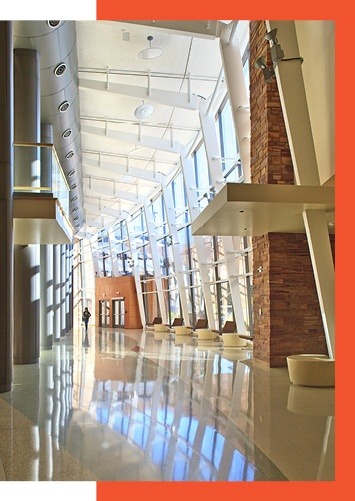 To facilitate this flexibility, the large, fixed elements and their pipes and ducts, which are found in the traditional laboratory, are placed along exterior walls or interior corridors with sinks and hoods in the corners. All other areas of the laboratories remain open. Additionally, movable furniture, benches that are suitable for group work, and abundant power and data outlets help create spaces that are easily adapted for a diversity of research types.
To augment the overall science mission of the university, the facility provides a central location for its core laboratories, such as XRD, NMR, and XRF laboratories, and supports them with a universal model of flex laboratories. The facility also includes a computer center, digital production studio, and 200-seat, fully instrumented auditorium with adjacent break-out rooms. Other specialty core labs in the facility include an imaging suite with a direct connection to a nanotechnology suite with Class 1000 inorganic clean rooms and a Class 10,000 organic module. A greenhouse with four test cells can reproduce climatic conditions of the Nevada Test Site on a real time basis.
Client
University of Nevada, Las Vegas

Location
Las Vegas, NV

Size
Over 100,000 sf

Disciplines
Beyond the Building
Building Performance
Community Benefit
Experience Redefined
Mission Support
Organizational Culture
Rightsizing
Sustainability
Technology Modernization

Projects with more purpose.