The Lofts at Albuquerque High
The historic Albuquerque High School opened its doors in 1914 and was the sole public high school in the city for more than 30 years. After closing in 1974, the property was abandoned, and due to continuing decay, was marked as a blighted area by City Council until DPS partnered with developer Paradigm & Company to convert the 7.3-acre campus into loft apartments and office spaces. The overall project preserves one of the more architecturally significant structures in the community and breathes new life into Albuquerque's downtown, spurring the development of a new East Downtown District.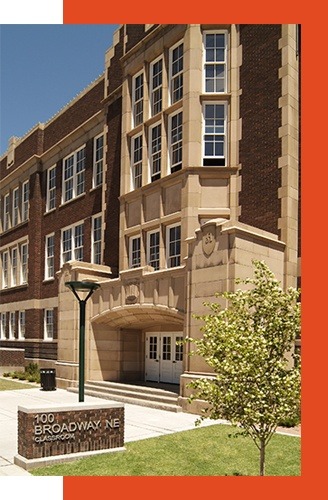 To pay tribute to the building's historic use, school walls, chalkboards, floors, and ceilings are preserved. Restored grandstands, structural trusses, a central atrium, limestone and cast concrete architectural features, and wood flooring also maintain the original character. Historic wood sash windows are refurbished to accept thicker insulated glass, contributing to energy conservation and comfort. The existing structural system is stabilized, mortar joints in the exterior brick walls are repointed, and the brick is sealed to protect against moisture intrusion. Building access and systems are modernized through installation of elevators, fire sprinklers, security systems, and new electrical and plumbing systems. New site development, including landscaping, paving, and ground cover, unify original structures and a new central park feature. A four-story parking garage provides convenient parking to tenants and nearby businesses, and a new plaza creates a front door gateway to the campus.
Location
Albuquerque, NM

Size
Over 100,000 sf

Disciplines
Beyond the Building
Adaptive Reuse
Community Benefit
Creating Partnerships
Experience Redefined
Extreme Makeover
Mission Support
Sustainability