Forensic lab design for people and purpose
State of New Mexico Forensic Laboratory
A new forensic lab for the New Mexico Department of Public Safety comes to Santa Fe. The 45,000sf laboratory increases the capacity for work of 50 staff and brings the facility up to date with modern quality of life needs. Design expertise and community engagement come together to better serve the public through forensic work.
The conception and design of the new lab was highly collaborative. To create a functional and flexible space, we partnered with consultant Crime Lab Design. They specialize in working with labs, architects, and engineering teams to develop modern, future-proofed forensic labs. Their knowledge of technical lab space with our local presence and design expertise led to a project that is work driven and human-centered. User feedback on existing lab space, projected growth, and spatial and budget analysis helped inform the placement, building share, and separation of labs and office space within the facility.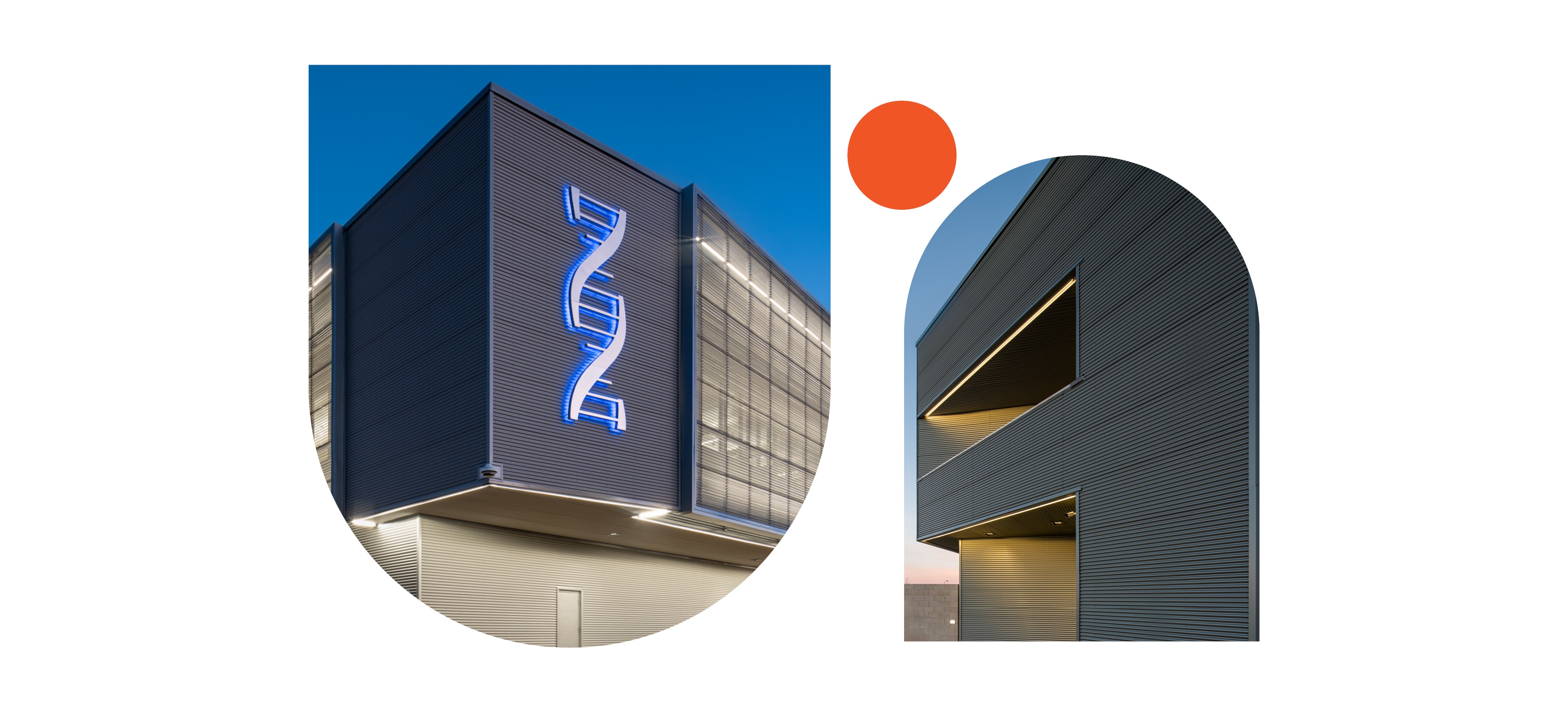 The layout is designed around a centralized evidence pick-up and drop-off area for efficient processing and storage of evidence. Individual lab spaces support firearm, drug chemistry, latent prints, and DNA analysis—each with accompanying administrative space. The firearms lab includes an indoor firing range, while the latent prints lab sits near the vehicle exam bay for access to large pieces of evidence, taking tire impressions, and photography. The building provides secure entrances for a variety of functions and controlled access at all hours. There are separate staff and visitor entrances, as well as a dedicated contributor entrance that leads to evidence processing and storage.
While forensic lab design is driven by science and tech specifications, the needs of people in these spaces can't be overlooked. Close work with Facilities Management Division and the forensic lab staff at the New Mexico Department of Public Safety confirmed these needs. Increased daylight, access to nature, and more thoughtful use of shared staff spaces are all addressed with evidence-based design practices. Amenities in the new forensic lab include a training room large enough for all staff, in- and outdoor break areas, a bright and open lobby, and new spaces for team collaboration. The site is located near a city bike path and features electric vehicle charging stations.
Wherever possible, security is balanced with openness, daylight, and views.
On a state funded project of this scale, schedule and budget are also major concerns. Flexibility and adaptation to collaborative, remote work enabled us to keep the project on track at the onset of the COVID-19 pandemic. We were able to avoid delays which allowed the State of New Mexico to enter into an agreement with a contractor ahead of major cost escalation. Our ability to shift quickly to a virtual setting was a big factor in the logistical success of the project.
User engagement, strategic partnership, design expertise, and project management made this critical facility replacement a reality. When completed in 2023, the new forensic lab design serves New Mexico and its forensic lab staff with a state-of-the-art space to process important work that helps keep our communities safe.
Client
New Mexico Department of Public Safety

Location
Santa Fe, NM

Size
25,001-50,000 sf

Status
In Progress

Disciplines
Beyond the Building
Building Performance
Community Benefit
Creating Partnerships
Experience Redefined
Mission Support
Organizational Culture
Wellness