Streamlined, secure storage
State of New Mexico Department of Public Safety Headquarters Annex
A new annex to the Department of Public Safety in Santa Fe, NM maintains public trust, bolsters recruitment and retention of staff, and provides flexibility for future needs and expansion. The New Mexico Department of Public Safety's (NMDPS) new space streamlines evidence processing, and brings storage, and records archives under one roof for improved efficiency.
Building on previous programming efforts, our team met with key stakeholders to revisit their vision and goals for consolidating criminal records and evidence storage into one secure facility. Using their feedback, we reexamined the previous design for better workflow and provided each department with a separate storage space. Much of the utility infrastructure was installed when the Department of Public Safety campus was built in the late 1960s. The location of the new facility required the removal of this infrastructure, so it was a convenient time to upgrade these aging utilities. Working with the State of New Mexico we inventoried existing records and evidence to plan for future growth and ensure ample storage on day one. Security improvements were also a major concern in the design. Through numerous meetings with IT staff, client stakeholders, and our consultant team, we integrated campus-wide security standards.
"It felt like a puzzle that only went together one way. This team not only figured it out, but they helped to create a great piece of architecture that sets the precedent for future projects on this campus."
David Mishler, Project Manager
The rerouting of utilities on the site, security upgrades, and reconnections required careful planning of shutdowns. To avoid interruption of services critical to law enforcement, we worked with consulting engineers and local utility providers. Operations on the NMDPS campus remained uninterrupted during construction, with existing structures and utilities being removed and reinstalled to make room for new buildings.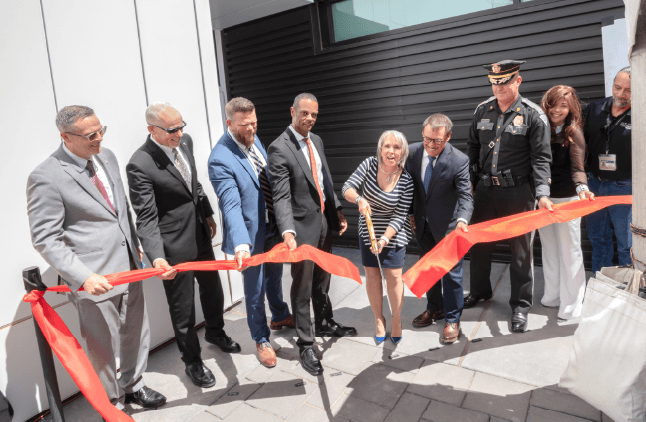 Construction began in March 2020; our team quickly adapted to remote and distanced work, keeping the project moving forward during the early stages of the Covid-19 pandemic. This shift allowed us to minimize delays and cost increases. The construction of this secure facility was affected by the challenges felt in every industry: supply chain disruptions, labor shortages, and major changes to the way we work. But constant communication between all parties meant continued progress, ultimately leading to the project's successful completion.
This project was an exciting opportunity to work alongside NMDPS and Bradbury Stamm Construction. We are proud of bringing a more efficient, forward-thinking secure storage facility to our state through adaptability, communication, and teamwork.
Client
New Mexico Department of Public Safety

Location
Santa Fe, NM

Size
25,001-50,000 sf

Disciplines
Beyond the Building
Community Benefit
Experience Redefined
Mission Support
Technology Modernization
Wellness