PRESNow 24-7 Urgent & Emergency Care
Located at the highly visible corner of Paseo del Norte and San Pedro, PRESNow is the first of four ambulatory care clinics planned by Presbyterian Healthcare Services in a strategic effort to fulfill its commitment to bring healthcare to the city of Albuquerque and surrounding communities.
This location is ideally located to provide close proximity to major circulation arteries and fills a need for urgent and emergency care in one of Albuquerque's growing areas. The clinic expands on the retail concept by offering walk-up, no appointment service and helps to decompress hospital emergency services.
The clinic's compact design is efficient for both staff and patient care with an emphasis on less waiting and more face time with clinicians. The large glass facade, inviting canopy and the bright eye-catching red entry encourage all to seek treatment in a healthcare setting more reminiscent of a hospitality setting.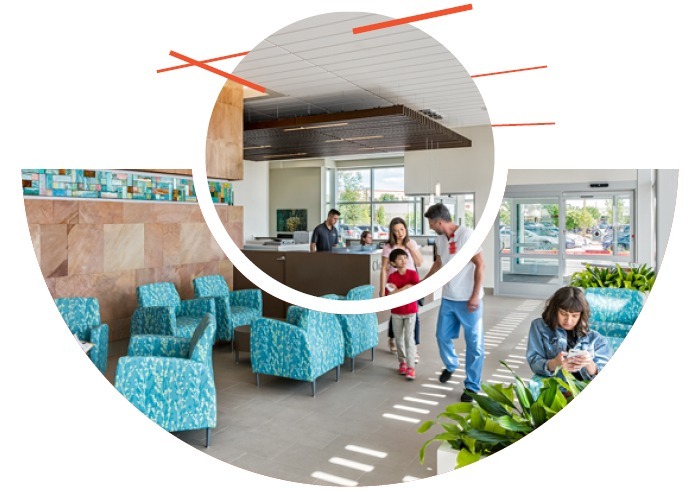 The universal exam rooms reinforce the overall concept of flexibility with consistent and uniform layouts. The shared program between urgent and emergent care also removes the guessing for patients so that the path of care is not dictated by the design. A centralized nurse station enhances the collaborative work environment providing open views of the surrounding rooms allowing for engagement with colleagues.
Due to the approachability and convenient neighborhood location, PRESNow bridges the gap between an institutional hospital setting and the convenience of a corner doctor's office while providing an expanded portfolio of care typically only available in emergency care settings. With the two services offered under the same roof, medical professionals decide the appropriate treatment and level of care needed for each patient.
When treatment is more accessible and more affordable, community members are more included to seek treatment.
PRESNow has been serving the community since June of 2019, helping to make the community of Albuquerque healthier.
Client
Presbyterian Healthcare Services

Location
Albuquerque, NM

Size
10,001-25,000 sf

Disciplines
Beyond the Building
Building Performance
Community Benefit
Experience Redefined
Mission Support
Organizational Culture
Rightsizing
Technology Modernization
Wellness