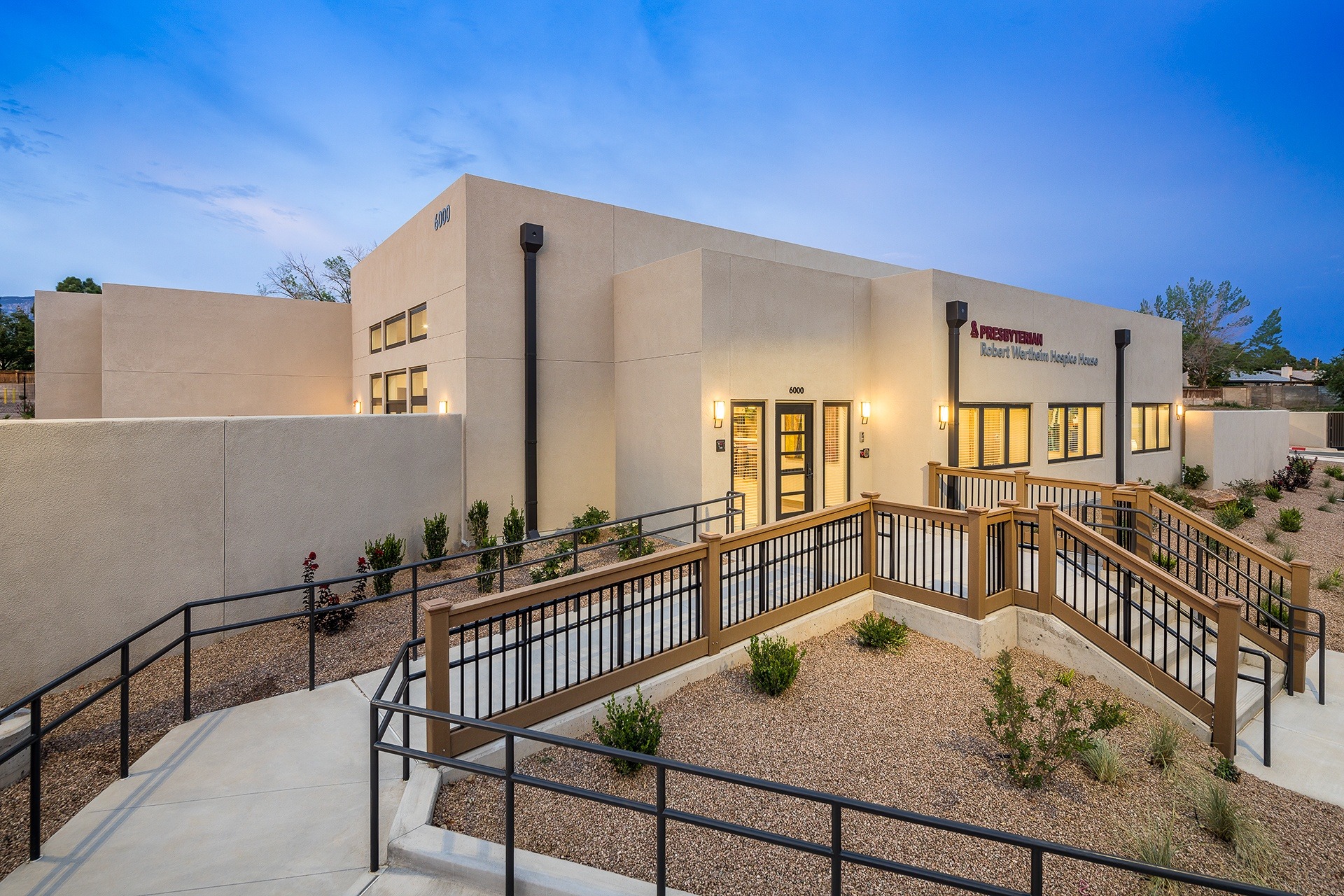 Designed with Care, For Care
Presbyterian Robert Wertheim Hospice House
Presbyterian Robert Wertheim Hospice House is a residentially inspired and fully licensed hospice care facility situated in northeast Albuquerque at Presbyterian's Northside Campus.  This 7,700-sf home has 10 resident rooms, each featuring a private patio with views looking toward the Sandia Mountains.
The Hospice House is provided to residents whose homes may not be suitable for home care or who may not have another option for end of life care.  The house is staffed with registered nurses and hospice specialty medical staff around the clock, providing care to the residents as they finish their life's journey.  Medical doctors are available for person to person visits or by phone to consult with staff.  As many of the residents may be bed-bound Hospice House is designed to allow all residents to move freely through the home and experience both the inside and outside amenities.
Like our own homes, Hospice House is meant to be a place to celebrate our lives in a warm and inviting environment, to share meals and laughter with loved ones, and to provide a comfortable space to care for each resident.
As residents and visitors arrive, they are greeted by the warmth of a large stone fireplace, wrapped by an open living room.  The double height living room is flanked by a large window wall which provides a visual and direct connection to the family courtyard and garden on the north side of the home.  Open to the living room is a residential kitchen and dining area, offering a family gathering space connecting residents and their families in the preparation of home cooked meals.
The dining area is designed to flex between a large banquet style table for group resident meals, and smaller family tables.  A serene meditation room overlooking a small garden is provided for family and visitors to find a moment of peace.
Exiting from the living room, residents and visitors move out to a family courtyard and garden with a walking path that winds around the resident patios.  These outdoor spaces provide a connection with nature for resident and family to share a simple moment.
Client
Presbyterian Healthcare

Location
Albuquerque, New Mexico

Size
Under 10,000 sf

Disciplines