NMJC Allied Health Building
New Mexico Junior College (NMJC) nursing degree program is ranked one of the top ten in the country and it prepares nurses to serve the southeast New Mexico region primarily at two nearby hospitals. The new Allied Health Building includes approximately 23,000sf of classrooms, labs, simulation spaces, faculty offices, support spaces, and student commons.
The Allied Health Building sits between the NMJC campus and the Lea Regional Medical Center. The design and floor plan organization was based on input from NMJC staff and a design advisory team who provided information on key functional relationships on site and building layout as well as preferred materials and systems. The design was further guided by adherence to the project vision, and goals defined by the college.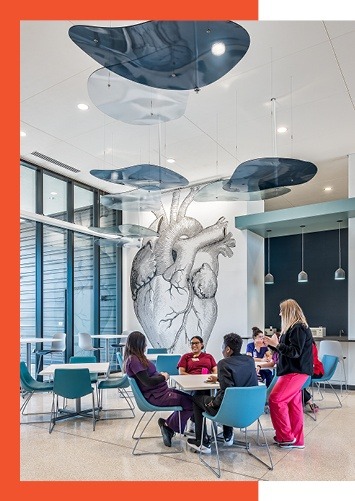 The design created a facility that's inviting and modern, incorporating elements of both academic and professional environments. Rooted at the campus, the building incorporates campus' light-colored brick, simple lines, and modern aesthetic, while glazing in the common areas and clean terra cotta panels speak to the professional environment of the hospital to the north. Low, one-story massing is balanced by a clearly defined central form expressing the main access to the building. Glazing on the campus side provides a view into the student lounge, and on the north creates an aperture framing the hospital in the distance. This bridging of the campus and the hospital drives the building organization and encourages contemplation of the students' professional goal as they transition through the program.
Critical goals for the project included a desire to bolster an already strong academic program, strengthen the relationship with Lea Regional Medical Center and Nor-Lea Hospital District, provide a facility that would support the curriculum needed locally, and continue to inspire students and encourage graduates to remain in Lea County. To support these goals, the building was designed as a bridge between the campus and Lea Regional Medical Center, physically, programmatically, and symbolically. Views to the hospital and main campus have been maintained and accentuated to strengthen the symbolic connection between the academic and professional worlds.
A combination of innovative design and modern technology promotes recruitment and retention of students and staff, while physical transparency and visual connections promote a state of education on display. The final design creates an intuitive and inviting atmosphere that promotes interaction and fosters collaboration that is student-student, faculty-faculty, and student-faculty.
Client
New Mexico Junior College

Location
Hobbs, NM

Size
10,001-25,000 sf

Disciplines
Beyond the Building
Building Performance
Community Benefit
Creating Partnerships
Experience Redefined
Mission Support
Organizational Culture
Rightsizing
Sustainability
Technology Modernization
Wellness