Education for the real world
nex+Gen Academy High School
Based on the New Tech Foundation's 21st Century High School Model, nex+Gen Academy combines small school principles with collaborative, project-based learning exercises that emphasize technology as an essential tool. All learning and support spaces within the school are outfitted with infrastructure to support digital media, distance learning, and wireless connections.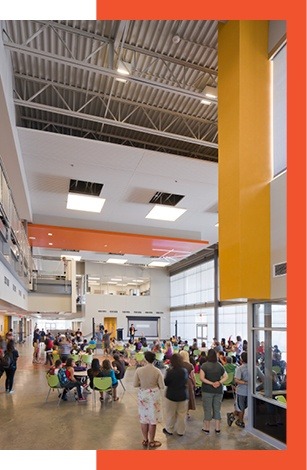 The design response to the school's curriculum is an open, transparent environment. Influenced by real-world corporate environments, interior spaces are engaging for both students and staff. Large, studio-like areas facilitate team teaching, student interaction, and project collaboration while a variety of multi-use, break-out spaces allow for small group and individual learning experiences. Additionally, a centralized commons area with a stage for presentation and cyber café provides space for large group assembly and casual study.
Mobile interactive smart boards, large work tables, ample casework storage, and easily reconfigurable furnishings offer flexibility. Hardwired and wireless connections support school-issued laptops and other technology throughout the building. Several spaces include additional technology to specifically support distance learning and digital media.
Does It Work?
How can building design support and foster a successful project based learning curriculum? This presentation, shared by DPS principals Benjamin Gardner and Sanjay Kadu at the 2016 A4LE LearningSCAPES Conference, considers the research behind the design of nex+Gen Academy and how the program has evolved after 5 years in the facility, which was specifically designed around a project based learning curriculum. View the presentation below or read the article published in Educational Facility Planner.
Client
Albuquerque Public Schools

Location
Albuquerque, NM

Size
25,001-50,000 sf

Disciplines
Beyond the Building
Building Performance
Community Benefit
Creating Partnerships
Experience Redefined
Mission Support
Sustainability
Technology Modernization

Projects with more purpose.