Top priority: patient outcomes
Ernest Health, Inc. (EHI) is a growing healthcare services company and has been working with Dekker Perich Sabatini (DPS) to design new facilities since 2005. The facilities EHI and DPS have produced are consistently listed in the top 10% for patient outcomes. Each facility is a freestanding, 40-bed physical rehabilitation or long-term acute care hospital. Primarily located in underserved areas, these hospitals transition patients from acute care facilities back to home living.
The primary goal for Ernest Health projects is to provide a healing environment suitable for all levels of patient rehabilitation. Careful design consideration is given to functional attributes, like patient safety and durability, as well as color palettes, artwork selection, and way-finding methodologies.
To celebrate what EHI facilities are all about, gyms are located near the front entrance. They receive tremendous amounts of natural light and provide the best views available in the buildings. Making the gym the most attractive place in the hospital encourages patients to look forward to their therapy.
Each Ernest Health hospital is produced as a team effort between the design team, contractor, and owner. The entire project team works closely together to complete each clinic on time. Projects are on an accelerated schedule, and they are typically produced and built within one year, from the beginning of entitlement to the ribbon-cutting.
Ernest Health Projects Map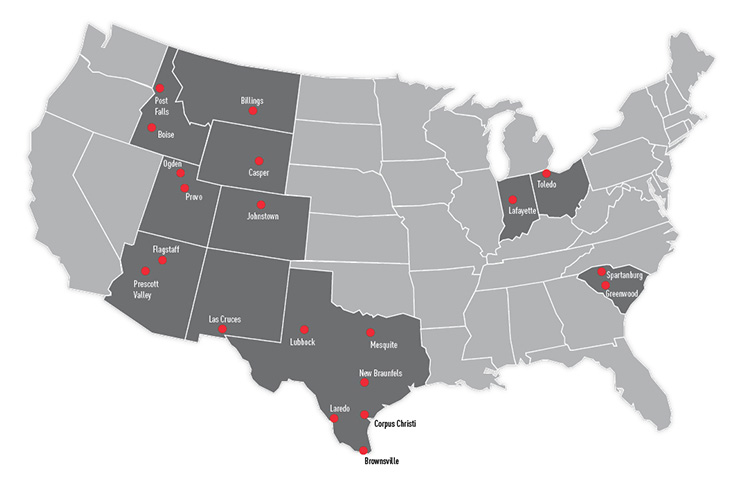 Location
Arizona, Colorado, Idaho, Indiana, Montana, New Mexico, Ohio, South Carolina, Texas, Utah, Wyoming

Size
25,001-50,000 sf

Beyond the Building
Community Benefit
Creating Partnerships
Mission Support
Organizational Culture
Rightsizing