Shelve your concept of libraries
ENMU Golden Student Success Center
This project transformed a 1960s library into a modern destination for social and intellectual interaction. At the Golden Student Success Center, students benefit from the best of old and new school technology.
The heart of the success center is a technology-driven "hub" providing multiple levels of support. This flexible area enables students to move between computers, group study, and one-on-one sessions with tutors and librarians. The hub connects to a café and large presentation space, offering varied opportunities for work and connection. An art gallery and existing mural grab visitors' attention and showcase the university's strong fine arts tradition.
The renovation demanded strategic consolidation to free up space while continuing to house the university's special collections. Our design team worked with the concrete frame and tight floor-to-floor heights to create a light-filled and energy-efficient space. An active chilled beam system maximizes ceiling height and reduces ductwork by more than 50%, vastly improving the structure's sustainability.
Motivated to enhance the aging building's performance, our team overcame challenges to achieve LEED Gold certification. In-house specialists assessed how the structure fared in various weather conditions. The results informed how we placed insulation.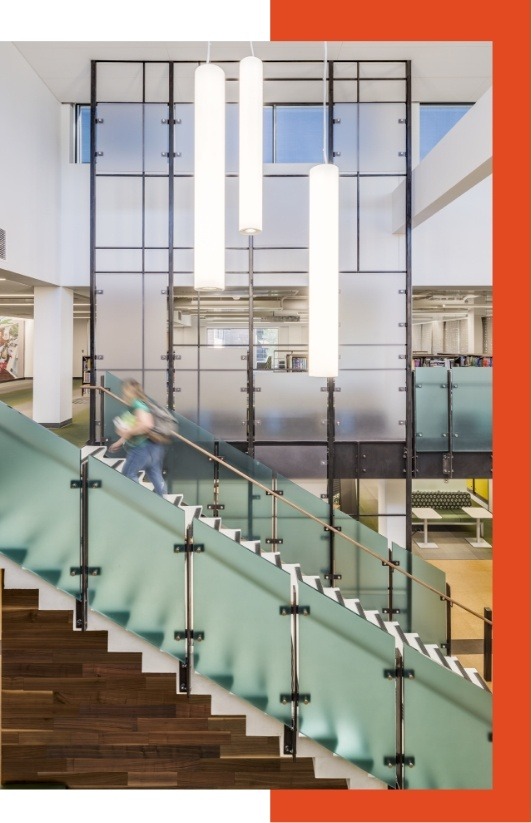 Client
Eastern New Mexico University

Location
Portales, NM

Size
75,001-100,000 sf

Disciplines
Beyond the Building
Building Performance
Community Benefit
Creating Partnerships
Experience Redefined
Extreme Makeover
Mission Support
Organizational Culture
Sustainability
Technology Modernization
Wellness