Albuquerque Rapid Transit
DPS, as a subconsultant to HDR, Inc., planned and design the 9-mile Albuquerque Rapid Transit (ART) project along Central Avenue, the historic Route 66. DPS was responsible for the planning and design of station platforms, canopies, streetscapes, and pedestrian amenities for the corridor.
The new Central Avenue ART stations were conceptualized as beacons of light, color, and animation to help catalyze new patterns of movement through the city. Amid streams of vehicles and pedestrians, the bright white station canopies stand out prominently during the day. At night, the glowing colors of the stations bring an added ambiance to the streetscape, helping to augment the energetic buzz of Central Avenue. The tensile structures provide shade and shelter are lightweight, durable, and designed on a repetitive module to increase efficiency and simplify construction.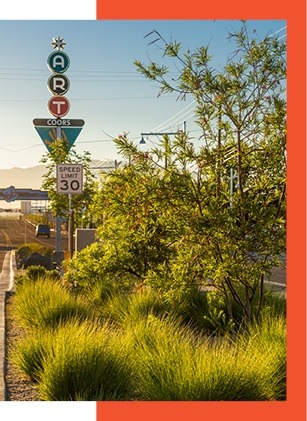 The streetscape design incorporates a wide variety of native and xeric plant material to soften, cool, and beautify the urban corridor. Plant selections were designed to reinforce the sense of place, with regionally native and xeric species, to ensure that this famous corridor really feels like and celebrates Albuquerque. A variety of shrubs, grasses, succulents, and flowering perennials were used in dense arrangements at each station to connect people to regional landscapes and provide visual relief in an urban landscape.
Deliberate efforts to maximize the number of new street trees included in this utility-laden corridor project, resulted in installation of over 480 new trees along the street and within landscape medians.
The project includes several bio infiltration swales and permeable pavement as part of green stormwater infrastructure strategy. The bioswales are located within landscaped bulbouts in EDo, UNM, and Nob Hill area. Miles of landscaped roadway medians follow the City's standard median guidelines for safety, maintenance, planting, and irrigation.
Learn more about Albuquerque Rapid Transit.
Client
ABQ Ride

Location
Albuquerque, NM

Disciplines
Beyond the Building
Community Benefit
Experience Redefined
Sustainability
Wellness