A destination that looks good on you
This ongoing project in the heart of Albuquerque's Uptown business and retail district creates a pedestrian-oriented, mixed-use city neighborhood. The urban infill development is built on a previously vacant 20-acre Brownfield site between two large retail malls. With the texture and density of a traditional downtown, ABQ Uptown melds lifestyle, retail, entertainment, multi-family housing, offices, a hotel, and a corner grocery store.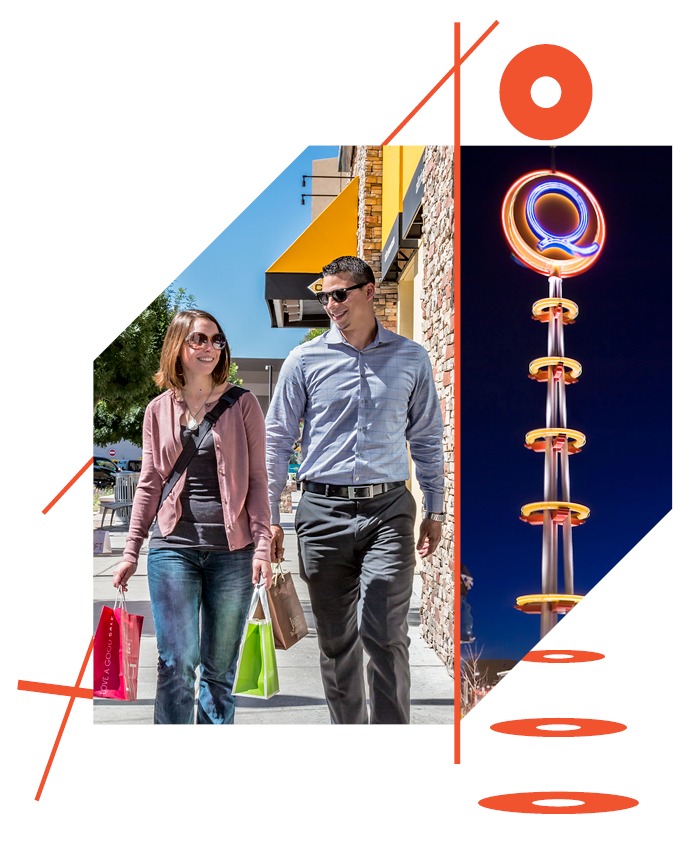 ABQ Uptown enjoys a definite sense of place. Regional materials, colors, furnishings, and lighting reinforce the image of a modern New Mexico mixed-use destination. The site design includes street landscaping, plazas, fountains, outdoor dining areas, and pedestrian corridors to accommodate modern needs of retailers while treating the needs of pedestrians as paramount. Extensive landscaping with a rich composition of regionally adapted and native trees provides shade and buffers pedestrian zones from busy streets. Convenient parking, including a three-level, 300-space parking structure, is balanced with gracious sidewalks, reinforcing the urban fabric.
Dekker Perich Sabatini created functional solutions for challenging issues such as site work, retail coordination, infrastructure, zoning, mixed construction types, environmental design, and parking.
Location
Albuquerque, NM

Size
Over 100,000 sf

Disciplines
Beyond the Building
Community Benefit
Creating Partnerships
Experience Redefined
Rightsizing