The Promise of Public Space
By Jitka Dekojova, ASLA, SITES AP
Now more than ever, public spaces like parks and plazas provide a valuable resource for urban communities and local economies. In 2020, the global pandemic underlined the integral role public space plays in the collective well-being of a city and its inhabitants. It also highlighted the problematic connection between public space and social divides. Landscape architects, planners, and community leaders are beginning to reexamine public spaces to ensure equitable access.
Green spaces have positive economic and environmental impacts on surrounding neighborhoods by increasing property values, mitigating heat island effects, and alleviating stormwater runoff. Public spaces offer opportunities for shared experience, safe social interaction, and personal respite.
They serve as much needed hubs of civic engagement, accommodating an array of experiences that support and strengthen surrounding communities.
Despite the proven benefit of open, green spaces and places, The Trust for Public Land reports that the share of city land devoted to parks and recreation in the U.S. ranges from 12% in high density cities to an average of 8% in lower density cities. [i] Opportunities to leverage the potential of existing public spaces are often overlooked. As these older spaces shrink, are built over, or fall into disrepair, land values and costs continue to rise, making the option to develop new open spaces impractical.
How can we make better use of existing public spaces to satisfy emerging needs and demand while simultaneously ensuring equitable access across all socio-demographics?
Community Driven Partnerships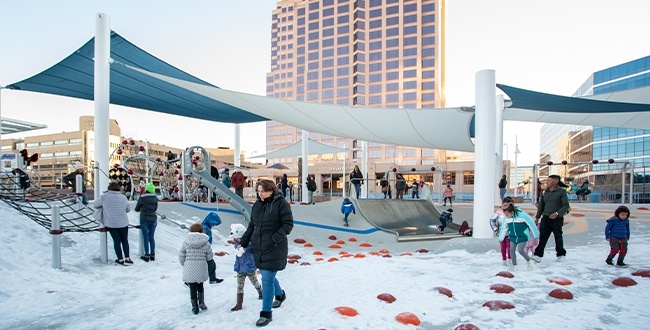 Rehabilitating public space is an opportunity for local government, business, and community partners to work together in reimagining the outdated open areas of a city - building community ownership in the process. Community driven partnerships ensure a project's long-term success while building community capacity through collaboration and networking.
A community partnership transformed Albuquerque's Civic Plaza from a large expanse of empty, paved space into an activity hub and downtown destination. When the City of Albuquerque received a grant from Southwest Airlines to modernize its plaza, they collaborated with Project for Public Spaces, the Downtown ABQ MainStreet Initiative, the Albuquerque Convention Center, local residents, and students from the University of New Mexico.
Now, visitors gather at the improved Civic Plaza for community celebrations, art and food markets, movie nights, performances, political marches, and more.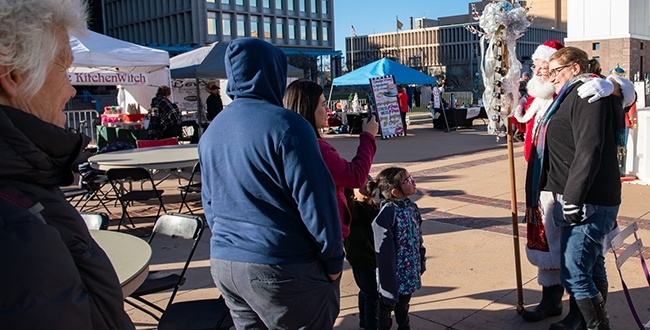 DPS worked with the City to design opportunities for spontaneous play and planned entertainment including an interactive water feature, a new playground, a stage and video wall complete with shade structures. The plaza's new amenities and programming improve the area's livability and contribute to downtown's economic health.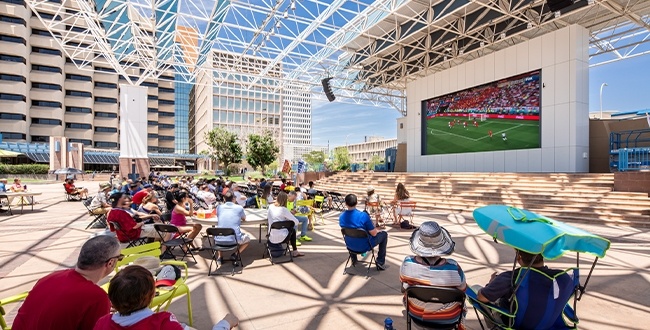 Multifunctional Public Spaces
To address today's complex urban issues our public spaces and urban infrastructure must solve more than one issue at a time. The Sawmill Community Land Trust did just that when they created Arbolera de Vida, a master planned neighborhood centered on quality affordable housing.
Another example of the power of community driven partnerships, this effort led by neighborhood leaders, blended community values, government subsidies, and private investment to create jobs and long-term affordable housing – all on a site heavily affected by industrial pollution, in an area that was quickly becoming unaffordable for working families.
The New Mexico nonprofit worked with the City of Albuquerque to clean up, reclaim, and transform 27 acres of the former industrial site into a livable community with over 200 affordable homes, a 60-unit live/work complex, and 16 ground floor commercial spaces for small business owners.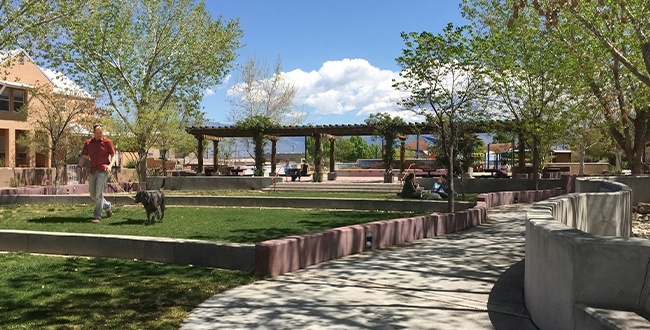 Landscape architects at DPS worked with the Sawmill Community Land Trust to design and construct a neighborhood park that also acts as a surge pond for the urban infill community. The park is designed to be resilient – to accept stormwater from the old, undersized infrastructure in the wake of increasingly unpredictable and intense storm events, while still functioning as a neighborhood park.
Community members participated in the design of the multi-purpose park which serves as both a gathering space and a stormwater pond, and includes a picnic area, playground, basketball court, multipurpose field, dog park, and walking path.
Linking the community's park with existing uses by skillfully incorporating required infrastructure inside the open space added another layer to the quality of life of the Arbolera de Vida neighborhood. Designing parks and green spaces to perform multiple functions reduces overall cost and maximizes the value of a community's open space.
Quality Public Spaces Elevate our Communities
Resilient and sustainable cities of the future value creativity, innovation, collaboration, flexibility and a commitment to well-being and health. Engaging community driven partnerships and designing public spaces to serve multiple functions support cities to meet a growing demand for quality public spaces.
---
[i] 2020 City Park Facts. The Trust for Public Land. https://www.tpl.org/2020-city-park-facts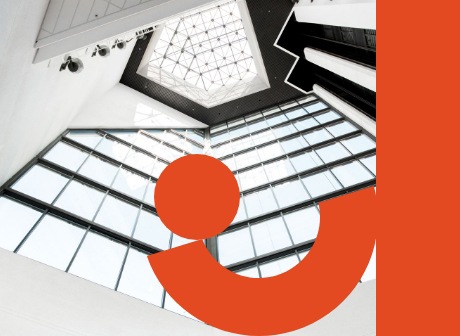 Buildings with more brains require less brawn.
DPS has a different design strategy when it comes to public safety.
Our insights in your inbox.