Rethinking Public Outreach
One upside to a pandemic? Rethinking public outreach strategies. Like the clear skies that have emerged over our cities, massive disruption to workflow has had unexpected upsides.
In 2020, our group of urban planners improvised on the fly to facilitate online public participation in place of more traditional face-to-face meetings.
As we transitioned to online engagement we wondered how much of what was done in-person could actually be done virtually. And, would a shift like this create an opportunity to engage a population we did not attract before?
Digital tools offer the promise of increased convenience of involvement, enabling better-informed citizens, reaching more diverse audiences, and sustaining engagement over time. We knew we were looking at an opportunity to develop and implement new methods of achieving fuller involvement and authentic responses in our own planning process.
Here are a few take-aways from our petri-dish of public participation amid a pandemic.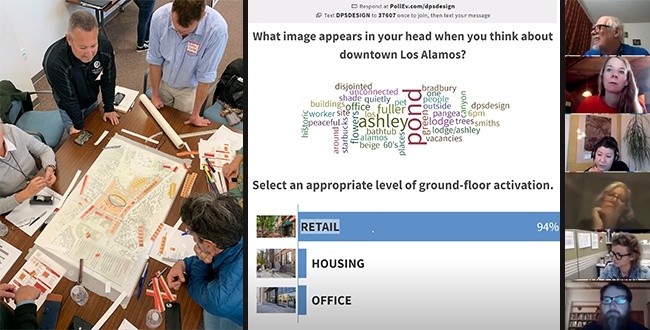 Online Meetings vs Virtual Workshops
By now, we've all been subject to meeting tools like Zoom, WebEx, or GoToMeeting in order to convene with colleagues and talk with friends and family. Most of these communication platforms are geared toward conferencing with limited abilities to interact and collaborate. If your objective is to share information and gather simple feedback, they work great.
However, if you're looking to facilitate a more interactive workshop (for example, a design charette or public forum,) opt for a webinar platform over a meeting tool. Webinar platforms allow for more synergistic and productive meetings. You can collect registration information, gather audience engagement insights throughout the meeting, and allow for the integration of visual collaboration tools like Miro and Poll Everywhere.
Getting the general public to download and then navigate a platform they're unfamiliar with can result in some participants opting out before the meeting even starts.
In the case of an online meeting with the exclusive goal of sharing information, choose the tool your audience is most familiar with. In our case, Zoom was the default for facilitating meetings of any size even though in our workplace, we favor GoToMeeting. Getting the general public to download and then navigate a platform they're unfamiliar with can result in some participants opting out before the meeting even starts. Encourage engagement by understanding which platform your community is most comfortable with.
Be sure to test your chosen meeting tool in advance of your meeting to ensure it has the functionality you really need. Need to know in advance who is coming to the meeting? Want the ability to mute and unmute participants? How about more structured Q&A capabilities? Will a chatbox suffice? There's a vast number of communication platforms out there with varying capacities. Know what you need to run a successful meeting and make sure the tool you choose gives it to you.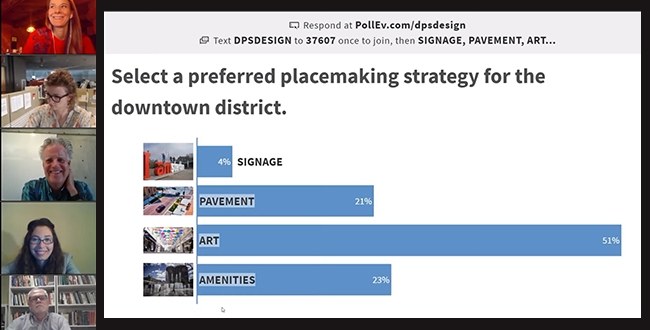 Visual Collaboration and Polling Tools
We use visual collaboration and polling tools in both our online meetings and interactive workshops because they instantly increase productivity and support reciprocal communication.
Polling tools offer an advantage both in the quantity and quality of data that you're able to collect in a single meeting. They're also fun and interactive. When we incorporate Poll Everywhere we usually get comments like, "This was great and I really liked the survey format." People enjoy sharing feedback and value seeing their ideas get documented on paper, especially if it's virtual.
Tools like Miro, Mural, IdeaFlip, Brightidea, or Stormboard can also be easily integrated into your virtual workshops. These tools stand in place of activities that are generally part of in-person workshops and we find that they maximize engagement and make our meetings more enjoyable.
Allowing for full participation not only gives attendees a sense of ownership but also keeps them engaged throughout the entire workshop.
In a recent virtual workshop of more than 100 participants, we used Miro for creating content and documenting the public engagement process. It allowed multiple users to interact on the same page and create design concepts in real-time.
In that same meeting, we used Miro to create a downtown urban framework, utilizing pre-designed templates to represent different land use categories like multi-family housing, office, and commercial. Participants were divided into subgroups that created their own version of a downtown plan. We then compared the different plans, weighing the benefits and drawbacks of each. Having the ability to participate in this way gave attendees a sense of ownership and kept them engaged throughout the entire workshop.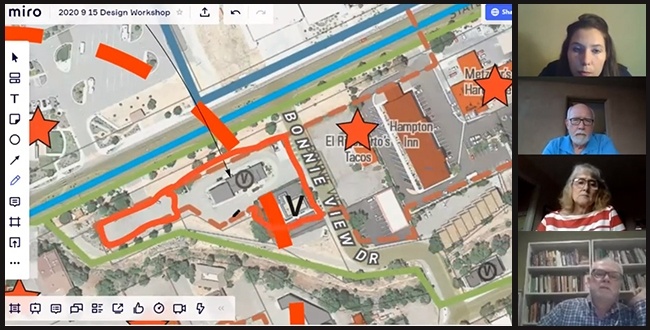 Plan on More Planning…and Prep
Both online meetings and virtual workshops require more planning, prep time, and more hands-on-deck than traditional in-person meetings. In the good old days, a public meeting generally required a PowerPoint, perhaps a few boards, some handouts, a tripod, and a projector. Two to three people could juggle the process of presenting, signing participants in, and hosting an open house format.
Not the case for virtual engagement. If during your workshop, you plan to break participants out into groups, structure and program become vitally important in order to ensure that similar results are produced. We found that each break-out group needs at least two facilitators to oversee the discussion and document the process. This is in addition to a lead meeting facilitator. For instance, in our last public meeting, we had eight facilitators. Each facilitator needed specific knowledge of the project and required training to be comfortable with the platform and tools.
Unexpected Challenge
As we began to conduct more online meetings we immediately understood that we were missing the beneficial information that comes from merely "reading the room." In-person meetings make it easy to sense how the audience is reacting - whether it's heads nodding or eyes rolling, the overall sentiment is intuitively grasped and your approach can be instantaneously adjusted.
Fully developed messaging and increased coordination and communication with clients and partners, in advance of the meeting, is essential.
Online, it's a different story. Other than reactions in the chat function, there are no obvious cues for how engaged or supportive the audience is. To compensate, we found that fully developed messaging and increased coordination and communication with clients and partners (in advance of the meeting,) is essential.
If we do not regularly improve upon our digital encounters, we will be left behind. We can use the platforms and tools mentioned above to create an online public forum that encourages more thoughtful input from a wide cross-section of our communities.
Let's take the convenience that online meetings afford participants and use it to reach people that normally would never think about spending time at a public meeting. Let's give people options for how they can participate rather than forcing them to endure more PowerPoints and monologues.
Let's embrace the changes inspired in 2020 to always include an online option for all future meetings, allowing people a choice for how they participate.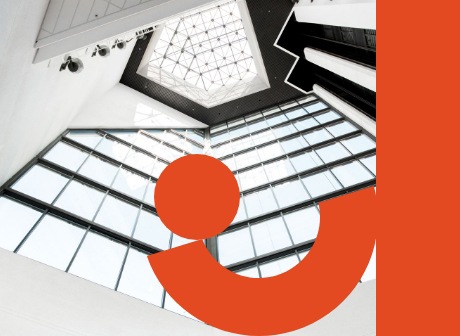 Buildings with more brains require less brawn.
DPS has a different design strategy when it comes to public safety.
Our insights in your inbox.